Registrations for Workshop Passes will open on September 2nd – Registrations for Party Passes on September 15th – be ready!
More Infos About Our Event here
WORKSHOP & PARTY PASS
PARTY PASS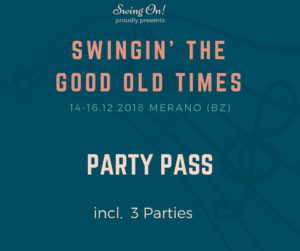 SINGLE PARTY TICKETS
Special Price for groups (- 15%) of minimum 3 couples (3 Leads and 3 Follows).
IMPORTANT: Please write the name of your group in the notes when you book your party ticket. To get the discount please use the promo code "sgotpromo".
È previsto lo sconto del 15% sul prezzo del biglietto della singola serata per i gruppi di almeno 3 coppie. Il gruppo deve essere composto da almeno 3 leaders e 3 followers.
IMPORTANTE: Al momento dell'iscrizione é necessario indicare il nome del gruppo nelle note. Il codice promozionale per usufruire dello sconto é "sgotpromo"